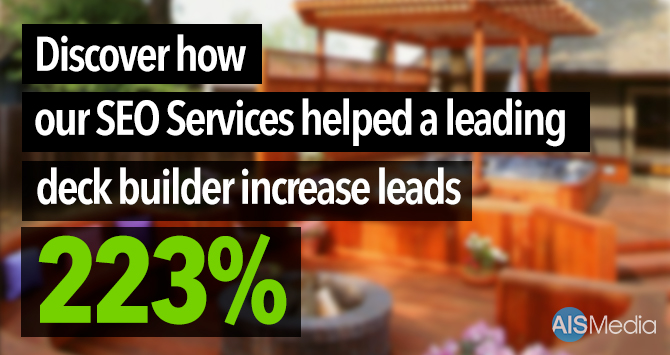 SEO Services Help Atlanta Deck Builder Achieve Record-Breaking Year
Is there a direct correlation between increased Google page #1 SEO rankings, site traffic and conversions? For Atlanta Decking and Fence, January – June represents high season. To prepare, our SEO team started a robust program of Atlanta SEO services in October. We identified and optimized the website around the highest-value keywords — those with the highest search volume and with the highest PPC prices.
The work paid off. BIG!

In a 6-month period, Atlanta Decking & Fence Company gained a 128% increase in Google page #1 keyword rankings, which drove a 129% site traffic increase. A triple-digit increase in site traffic alone is quite impressive but the most exciting number is the visitor-to-lead conversion rate increase of 223.53%. This proved that our Atlanta SEO services program connected with the right target audience.
Award-winning Atlanta SEO Services
If you're looking for an Atlanta SEO company that measures performance not just by higher SEO rank but also leads and sales, we invite you to visit us at our Atlanta office for a complimentary SEO analysis and consultation. You can also contact us online or give us a call at 404-751-1043.